And how do you get a girl to stop crying? You cover her mouth.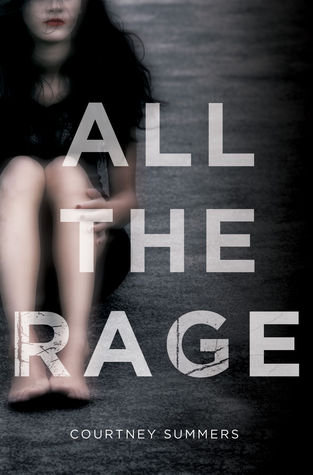 Synopsis:
The sheriff's son, Kellan Turner, is not the golden boy everyone thinks he is, and Romy Grey knows that for a fact. Because no one wants to believe a girl from the wrong side of town, the truth about him has cost her everything–friends, family, and her community. Branded a liar and bullied relentlessly by a group of kids she used to hang out with, Romy's only refuge is the diner where she works outside of town. No one knows her past there. But when a girl with ties to both Romy and Kellan goes missing after a party, and news of him assaulting another girl in a town close by gets out, Romy must decide whether she wants to fight or carry the burden of knowing more girls could get hurt if she doesn't speak up. Nobody believed her the first time–and they certainly won't now–but the cost of her silence might be more than she can bear.
In the interest of being honest and up front, I was one of the 50 recipients who won a copy of the ARC of All The Rage from the giveaway that St. Martin's Press held back in November of 2014. This in no way means that I will be biased in my review. Quite frankly, I don't need to. Courtney Summers has written yet another book that I have fallen deeply in love with, even if the subject matter is hard to handle.
Earlier, I came across a "review" on goodreads that said "stop writing teen rape books." The fact that you can even write a review on goodreads without even having read the book annoys the crap out of me, but that's neither here nor there. This is EXACTLY why All The Rage is necessary. This is not just "another teen rape book." This is a gritty, hard novel that gives an unflinchingly real look into the way that rape survivors are treated and abused after their already horrific assaults. Romy is the epitome of a victim. But this does not mean that she's pathetic. Romy is quite the opposite. Can you even for one moment imagine losing everything – your sense of self, your sense of safety and self-respect – having it stolen from you and when you speak up, you are ostracized, treated as though it were your own fault? Anyone who can go through that and survive is certainly not to be pitied, but to be admired.
Courtney Summers is known for writing about the harsh realities of teenage girls and their "politics" and All The Rage continues in that tradition. Summers shows us the ugly side of people who cannot handle truths and instead prefer to live in their own blissful ignorance, no matter what the cost. Her characters, while fiction are painstakingly real. The pain and shame Romy and other past characters (Sloane from This is Not a Test, Regina from Some Girls Are) showcase is REAL. These are characters that girls and women who have been hurt and abused can actually relate to and THAT is important. In a time where victim-blaming/victim-shaming has become common practice? THAT is why these "teen rape books" are so important.
It's no secret that I harbor a major girl-crush on Courtney Summers, but because of my own past, I was both afraid and eager to read All The Rage. It was rough but so worth it. Her writing is superb, flawless and this is certainly her greatest work yet. Every page is filled with emotion. Romy is a heartbreakingly fragile and yet still amazingly strong young woman who refuses to give up even though that is exactly what she wants to do and you will find yourself eagerly turning the pages to see what happens next. If that is not the mark of a great writer, I don't know what is.
Have you read All The Rage? I'd love to hear your thoughts! And if not? What other dark novels have found a place in your heart, even if they were hard to read? Leave a comment with your thoughts!